Nail Clipping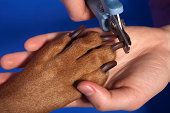 Nail Clipping is important part of the grooming process it aids in keeping your dogs nails to stay short and not overgrown.
All our grooms include complementary nail clipping but we also offer this as a stand alone service.
The Price of this is £5 per dog
We also do small animal nail clipping which includes Rabbits and Guinea pigs for just £5 each
If your wanting to book or have an enquire please send us a message through our contact us page or give us a call to discuss further.