Bath and Towel Dry
What a Bath and Towel Dry Includes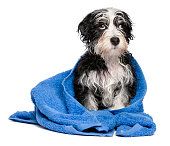 Our bath and towel dry package includes a consultation to establish the grooming requirements, the 10 point health check, bath, towel dry, brushing, nails trimmed and ears cleaned.
A consultation will give our us a good understanding of your dog's personality, coat type and any specific needs they may have. It's also a good opportunity to make friends with them, and start building up trust.
A 10 point health check is carried out as a matter of procedure and we are trained in spotting the most common ailments and problems that occur in dogs.You pet will then receive a dog bath, which we use the best products for your dogs coat type and 2 shampoos. This will gently cleanse their coat of dirt, grease and any nasties that may be there.
Once clean, they will be carefully towel-dried and brushed out.
We also include nail clipping and ear cleaning with any full groom.
With this package if the dog is severely matted we may ask you to upgrade to a full groom and extra charges would be applied. We groom humanly and would not fully de-matt a dog if its coat is in to bad a condition. There is an extra charge for de-matting and this will be discussed at the initial consultation. Towel drying will not get rid of all the dead hairs this can only be done with the bath and blow dry package, although we will give your dog a brush it is something you should be aware of.
Miniature / Toy Breeds £5.00 - £8.00
e.g. chihuahua, Jack Russell
Small Breeds £8.00 - £10.00
e.g. Lhasa, Shihtzu, West Highland Terriers
Medium Breeds / Short haired large breeds £10.00 - £15.00
e.g. Cocker Spaniel, Cockerpoo, Dalmatian
Large Breeds £10.00 - £15.00
e.g. Springer Spaniels, Labrador
Long Coated Large Dogs from £15.00
e.g. Golden Retrievers, German Shepherds
Extra Large Dogs from £20.00
e.g. St Bernard's, Newfoundlands
Prices are subject to extra charges if matted etc.
If your wanting to book or have an enquire please send us a message through our contact us page or give us a call to discuss further.